THE MUSIC OF JOHN HULING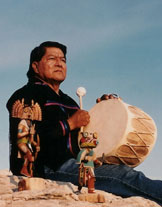 Since 1983 John Huling has been creating masterfully crafted instrumental music with Native American flute. Pan Flute and nature as well as other instruments under the Novox Music label. John Huling 's Native American flute music is always original, innovative and beautifully inspiring. Never a copy. Some of the best selling albums ever are from his Musical Visions of the Southwest Series. They include Spiritlands, Ancient Canyons, originally titled Return to Spiritlands, Mesa Sunrise, Canyon Spirit, Ancestral Waters, Under Desert Skies and numerous others. Huling's music has remained in the top ten bestsellers list for more than 16 years!

John Huling received his nearly 50 years of musical background from the early age of 4 years old. Starting with percussion,Native American flute and guitar. Huling's formal education ranges from Psychology, History, Oceanography, and Pre-medical academics to 16 years as a successful commercial photographer. Huling's photographic work has been published in the Smithsonian Archives for Historic Preservation. Architectural Digest, Harpers Bazaar, Architectural Record, Smithsonian and numerous other publications.

John Huling has lived in and around Indian reservations for most of his life. Having traced his family heritage back for nearly 400 years in North America Huling's background includes a mix of English, French, Iroquois, Narragansett, Mohawk, Scotch, Welsh and German. John Huling's daughter is a mix of Blackfoot and Cherokee Native American Indian.

ANCESTRAL WATERS BY JOHN HULING



John Huling's expertise in crafting soundscapes that mirror the majesty of the Native southwest is taken to new levels with ANCESTRAL WATERS. For starters, the artist trades the stark loneliness of mesas and plateaus for more ecologically rich vistas like meadows, grasslands and riverbeds. Also in contrast to many of Huling's prior releases, ANCESTRAL WATERS puts a heavier emphasis on acoustic instrumentation. Synthesizers are present, but are relinquished to an almost unnoticeable role in the backdrop. Besides Huling's melancholy flute tones, these sonic panoramas gravitate around guitar strumming, piano and nature sounds. With its strong organic hues and serene melodies, the music of this album will bring listeners peace while setting their imaginations a flight.
CD PRICE $14.00
MP3 CLIP TRK 1


ANCIENT CANYONS BY JOHN HULING
FORMERLY TITLED 'RETURN TO SPIRITLANDS'
Meditative Native American Flute with background nature sounds and synthersizer. Calming and relaxing filled with mystery and passion. John Huling often records on location throughout Arizona and Utah. Return to Spiritlands takes the listener back to the red sand stone canyons and vast plateaus.
MP3 CLIP TRK 2


CANYON LIGHT BY JOHN HULING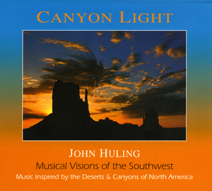 Canyon Light musically reflects the serene beauty, mood, nature and emotion of the Canyon Light in the Southwest Deserts of North America. John Huling creates this beautiful music with Native American Flutes, Piano, Cello and other instruments to portray his melodic, artistic impressions on Canyon Light. Something new is guest cellist Nathaniel Parke performing on Remember, Last Saguaro and Soliloquy. Canyon Light is absolutely beautiful!

1. Remember 5:11
2. Canyon Light 3:47
3. Mesa 3:14
4. Last Saguaro 3:28
5. Dream 2:58
6. Above Clouds 3:36
7. Lost 4:28
8. Distant Lands 3:45
9. Afternoon 3:24
10. Last Breath 3:55
11. Butterfly 3:11
12. Soliloquy 5:43

CD PRICE $14.00
MP3 clip
CANYON SPIRIT
Recorded live throughout the canyons and plateaus of the Four Corners. Solo flute with wonderful nature sounds of birds, frogs, insects, and weather. The ambience is natural, relaxing, and keeps us in touch with nature outside while we are working or whatever inside. As far as music goes, if this doesn't enhance your calmness, we don't know what will.
CD PRICE $14.00


DESERT PLATEAUS
Countless desert birds and other animals, as well as thunder and rain, set the tone for these beautiful melodic songs. Ancient pan flutes, Indian drums, Native American flutes and synthesizers create a tapestry of sound reflecting the serene, yet sometimes mysterious nature of the desert. This music was the culmination of more than 9 months of living in and around the Four Corners region - where the states of Utah, Colorado, New Mexico and Arizona come together. Several of the Native American flute parts were actually recorded amongst the Anasati Ruins themselves.



CD PRICE $14.00


IN THE LAND OF DREAMS
Drawing upon inspiration from the Desert Southwest, Pacific Northwest, Central Plains and Eastern Woodlands, John Huling's music takes the listener on a meditative inner journey for the mind, body and spirit. Native American flute and gentle drumming along with a beautiful array of nature sounds including thunderstorms, brooks and birds make up this excellent collection of Native American influenced music from North America. IN THE LAND OF DREAMS is a perfect acoustic complement to Huling's other impressive releases.
CD PRICE $14.00


JELLY MUSIC BY JOHN HULING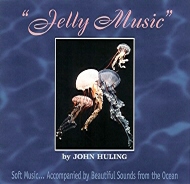 A mainstay at California's Monterey Bay Aquarium, John Huling's music provides an exquisite background for various nature exhibits around the world. Take an imaginary journey to the undersea world.

1. Blue Canyons MP3 clip
2. Peaceful Journey
3. Two Worlds
4. Before the Dawn
5. Quiet Harbor
6. Drifters
7. Fisher Dance
8. Hope
9. Pacific Winds
10. Lost Oceans



CD PRICE $15.00 PLAYING TIME 50:52




MESA SUNRISE
Finding his muse among the canyons and mesas of the picturesque American southwest, flutist John Huling's organic soundscapes seem to live and breathe with natural beauty. The sounds of indigenous wildlife blend into synthesizer washes. Light Native American percussion sets the pace on several tracks. But it's Huling's earthy flute melodies, with their sweet and rather melancholy resonance, which really capture the listener's attention. MESA SUNRISE is a collection of some of Huling's most interesting compositions from his various albums. "Lost Canyons," "Sunrise at East Mesa," "Breath of the Mountain" and "Forgotten Plateaus" are a few of the titles featured.
MP3 CLIP TRK 1


SLEEPING DESERT BY JOHN HULING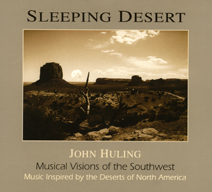 SLEEPING DESERT is a meditative and reflective musical journey inspired by the peace and tranquility in the Southwest Native American Deserts. A #1 top selling composer, performer and musician since the mid 1980's, John Huling's music is heard and sold throughout the world. SLEEPING DESERT provides a calming and relaxing atmosphere for healing, meditation and reflecting. SLEEPING DESERT... is hauntingly beautiful music that will help you unwind, relax and sleep.

1. Arizona | Arizona Part 2 7:13
2. Blue Plateau 7:22
3. Long Journey 6:42
4. Desert Memories 3:35
5. Summer Moon 10:11
6. Weeping Stones 3:47
7. Mysterious Places 6:37
8. Stars 3:54
9. Sleeping Desert 6:44

CD PRICE $14.00
MP3 clip
SPIRITLANDS
John Huling fashions the original compositions that make up SPIRITLANDS around Native American legends and the landscapes of the Southwest. As a result, each track is a panorama of sound featuring flute, pan flutes, drums and enough synthesizer to provide lush and full music. In the backdrop are whispering winds, gentle rains, thunder, running brooks, coyotes and other animals. In some cases, the songs are energizing, driven by strong drum beats and on others, Huling's flute floats meditatively above a gentle underlying melody. This album is sure to fill any listener with warmth and emotion.
CD PRICE $14.00


UNDER DESERT SKIES BY JOHN HULING
When John Huling sets out to paint a musical portrait of the Native Southwest, he not only manages to capture the tone and mood of life amongst the canyons, he does it with style. UNDER DESERT SKIES, Huling's second release on his own label Novox Music, is soulful and soothing example of Southwestern music at its finest, that solidly plants one foot in the natural world and the other in the studio. Huling's flute is the centerpiece of these recordings, around which he peppers the compositions with wildlife and weather sounds (brisk winds, birds, coyotes), light beats and an attractive layer of synthesizer ambience. This is a great album for fans of Native and Native Influenced artists on the contemporary side of the spectrum, not to mention those who enjoyed his key album SPIRITLANDS.
PLAYING TIME 51:30
CD PRICE $14.00
MP3 clip
BEST SELLERS LISTS