THE MUSIC OF GAELIC STORM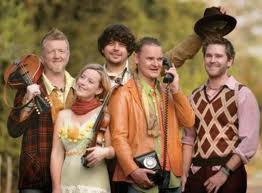 While Celtic music is often associated with the mournful sounds of tragic loss, Gaelic Storm has added a completely new dimension with energetic music that encourages people to get off their pub stools and dance. This element of their music caught the attention of the directors of the blockbuster Hollywood movie Titanic, leading to their appearance as the steerage band in the film. Gaelic Storm has been going strong ever since.
On St. Patrick's Day in 1996, Patrick Murphy officially formed a band with Steve Wehmeyer and Steve Twigger. Murphy became the lead singer for the group and also played the harmonica, accordion, and the spoons. Wehmeyer, a New Yorker in love with Irish music, played the bodhran, the digeridoo, and provided vocals. Wehmeyer earned a doctoral degree in folklore and mythology from the University of California at Los Angeles, where he has also taught and lectured. He has appeared on the Learning Channel's Unnatural History and has published materials in New York Folklore, Western Folklore, and African Arts. Twigger, a self-taught guitar player from Coventry, England, played the mandolin, the bouzouki, and provided vocals. Twigger completed an art degree and worked as an art director, graphic designer, and illustrator in England for three years before moving to Los Angeles, where he worked designing movie posters for Hollywood studios.
BRING YOUR WELLIES BY GAELIC STORM
Prepare to raise your glass, Gaelic Storm's in the house and this pub band knows how to rouse a crowd. Over the years, their hard drinking, anecdote-laden sound has subtly transformed from straight up Irish jigs and reels to their own unique blend of high-energy dance/folk music with a fair share of humor, storytelling and fiddle-playing. On BRING YOUR WELLIES (a British term for rainboots), the band offers another lively set of tunes that certainly is diverse. The opener "Skalliwag" is an energetic romp that is pure Gaelic Storm. "Me and the Moon" is a toe-tapping crowd-pleaser with a catchy chorus, "Kiss Me I'm Irish" turns the popular saying into a charming little ditty and "Bare in the Basin" proves that the group can still rock an instrumental tune. Another fine and fun album from this popular party band.

1. Scalliwag 3:32
2. Me and the Moon 4:23
3. Never Drink 'Em Dry (Johnny Tarr's Funeral) 3:03
4. Devil Down Below 3:26
5. De Luain, De Mairt 3:05
6. Bare in the Basin 3:24
7. Kelly's Wellies 3:52
8. Sling Shot 3:25
9. Hello Monday 3:18
10. The Long Way Home 4:28
11. The Salt Lick 3:43
12. Don't Go For "The One" 2:09
13. Tornado Alley 3:37
14. Kiss Me I'm Irish 5:01



PLAYING TIME 50:34
MP3 clip CD PRICE $13.00
GAELIC STORM BY GAELIC STORM
You probably already know Gaelic Storm if you saw the blockbuster movie "Titanic" - they were featured as the Steerage Band that entertained the immigrant third-class passengers below the decks with their festive Irish revelry. Now this entertaining five member band presents you with their debut release GAELIC STORM. Full of sprightly Celtic jigs and classic Irish sing-alongs like "Johnny Jump Up," "Hills of Connemara" and "Rocky Road to Dublin," this self-titled album keeps these songs alive for the pure enjoyment that they bring listeners. Like the boisteroius energy of a night at the pub, this is one album that'll guarantee a good time.

1. Hills of Connemara 3:10
2. Bonnie Ship The Diamond / Tamlinn 5:25
3. The Farmer's Frolic 2:17
4. Johnny Jump Up / Morrison's Jig 5:00
5. The Storm 4:30
6. Tell Me Ma 2:42
7. Rocky Road to Dublin / Kid on the Mountain 4:30
8. Sight of Land 4:42
9. The Leaving of Liverpool 3:41
10. Sammy's Fancy 4:30
11. McCloud's Reel / Whup Jamboree 3:06
12. The Road to Liskeard 3:06



PLAYING TIME 46:39
MP3 clip CD PRICE $13.00
HERDING CATS BY GAELIC STORM
The steerage party band that went down with the ship in "Titanic" has resurfaced to present its multitude of fans with HERDING CATS, a collection of traditional Irish sing-alongs, Celtic dance music and festive, rollicking pub songs. Building off the success of their first, self-titled debut album, the members of Gaelic Storm present thirteen energetic and exuberant arrangements that include "After Hours at McGann's," "The Park East Polkas" and "The Devil Went Down to Doolin." Produced by Celtic music sensation John Whelan, the album also includes three original compositions: "Drink the Night Away," "The Ferryman" and "She Was the Prize."

1. Drink the Night Away 3:13
2. The Ferryman 3:59
3. South Australia 4:11
4. After Hours at McGann's 3:39
5. Heart of the Ocean 4:28
6. Breakfast at Lady A's 4:05
7. The Park East Polkas 3:45
8. Spanish Lady 3:52
9. The Devil Went Down to Doolin 5:47
10. The Barnyards of Delgaty 2:35
11. The Broken Promise 4:35
12. She Was the Prize 4:10
13. Titanic Set 3:20



PLAYING TIME 51:57
MP3 clip CD PRICE $13.00
SPECIAL RESERVE BY GAELIC STORM
In the last five years, Gaelic Storm has come along way from simply being "the steerage band" in a little movie about a sinking ship to entertaining audiences around the world as Irish music's premier party band. If you follow the lyrics of their songs, you know that the band has a fondness for a particular malt beverage, knows plenty of colorful people and enjoys life to the fullest. Well, the fiddles are flying once again as the 5-member band recollects their past efforts with SPECIAL RESERVE, an album of their greatest hits. Included are three new songs, plenty of energetic instrumentation and that offbeat sense of humor that we've all come to recognize as part of their charm.

1. Courtin' in the Kitchen 4:08
2. Johnny Tarr 3:30
3. The Schooner Lake Set 4:05
4. The Leaving of Liverpool 3:41
5. Drink the Night Away 3:13
6. After Hours at McGann's 3:39
7. Swimmin' in the Sea 4:20
8. Nancy Whiskey 3:26
9. She Was the Prize 4:10
10. Johnny Jump Up / Morrison's Jig 5:00
11. Titanic Set 3:20
12. Tell Me Ma 2:42
13. Beggarman 3:44



PLAYING TIME 49:15
MP3 clip CD PRICE $13.00
BEST SELLERS LISTS