THE MUSIC OF ENYA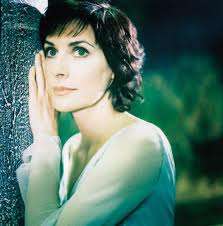 Known as Enya - was born in 1961, 17 May, and spent her childhood in Gweedore (in County Donegal, situated in the north-west of Ireland, one of the main redoubts of the Irish language). There are nine brothers and sisters. Apart from Enya, who is in the middle, there are four other girls and four boys. All the family have won many competitions and are famous in national traditional [music] circles.
Whilst at school, Enya studied the piano and classical music. Three of her brothers and sisters, Máire Ní Bhraonáin (Mary Brennan), Ciarán Ó Braonáin (Kieran Brennan) and Pól Ó Braonáin (Paul Brennan) formed, together with their uncles Pádraig Ó Dugáin (Patrick Duggan) and Noel Ó Dugáin (Noel Duggan), a folk music group (at first with a certain American feel and then more purely Irish, though influenced by jazz and by others such as Pentangle). The group was named Clannad, a contraction of "the family from Gweedore" in Irish. In 1980, at the suggestion of their manager, Fachtna O'Kelly, Enya became a member of the group, participating in the recording of two of their albums, Crann Ull and Fuaim. Apart from providing vocals, she played the Wurlitzer electric piano and later the Prophet 5 synthesizer. She performed with Clannad on many occasions, until, in February 1982, on completing a European tour, she left the group, no one really knowing why. Perhaps she was fed up with being treated as just the little sister.
Since then she has lived in Artane, in the north of Dublin, sharing a house together with Nicky Ryan and Roma, his wife, who comes from Belfast. All had been involved with Clannad at some time. Nick Ryan had worked as a sound engineer with Planxty and later with Clannad, at the time the group was starting out. In 1980, their manager, Fachtna O'Kelly, took charge of the new group The Boomtown Rats, for which reason Nicky thenceforth took charge of their [Clannad's] work. In his house he installed a recording studio, Aigle. There he has recorded, for example, Christy Moore's album Ordinary Man, which has three songs in which Enya takes part in the chorus.
AMARANTINE BY ENYA
After five years of eager waiting, Enya returns with the anticipated follow-up to her multi-platinum album A DAY WITHOUT RAIN, titled AMARANTINE. And like her past releases, the album feels akin to curling up in your favorite chair with a blanket - warm, comfortable and familiar. There are no surprises here; Enya's trademark overdubbed vocals float through each of these tracks with celestial lightness, her breathy purr whipped up into a choir of ethereal beauty. The arrangements are similar to her past work as well, focusing on soft synthesizers, subtle waltz-like rhythms and tender melodies. Highlights of the album include "Sumiregusa," Enya's first Japanese language song, and "The River Sings," an upbeat song that's reminiscent to her popular "Storms in Africa" from WATERMARK.

1. Less Than a Pearl 3:44
2. Amarantine 3:13
3. It's In the Rain 4:08
4. If I Could Be Where You Are 4:01
5. The River Sings 2:50
6. Long Long Journey 3:17
7. Sumiregusa 4:42
8. Someone Said Goodbye 4:02
9. A Moment Lost 3:08
10. Drifting 4:12
11. Amid the Falling Snow 3:39
12. Water Shows the Hidden Heart 4:39


PLAYING TIME 45:37


CD PRICE $18.00
MP3 clip
DAY WITHOUT RAIN BY ENYA
In the new age world, it's hard to find someone unfamiliar with the works of Enya; her music is the pinnicle of the genre. With a span of years between each release, Enya's compositions are always top notch showing the height of her talent. A DAY WITHOUT RAIN is no exception. Not changing the formula, Enya once again uplifts you like no one else can, presenting us with eleven new ethereal confections sure to impart feelings of light-hearted joy. "Lazy Day," the album's concluding track, perfectly summarizes a running theme throughout this album-that of taking a break to enjoy the small pleasures in life...and A DAY WITHOUT RAIN is definitely one of those pleasures.

1. A Day Without Rain
2. Wild Child
3. Only Time
4. Tempus Vernum
5. Deora Ar Mo Chroí
6. Flora's Secret
7. Fallen Embers
8. Silver Inches
9. Pilgrim
10.One By One
11.The First Of Autumn
12.Lazy Days




CD PRICE $17.00





ENYA CHRISTMAS (OICHE CHIUN) BY ENYA
1. Only Time (Remix)
2. Oíche Chiún (Silent Night)
3. Willows On The Water



PLAYING TIME 15:00

CD PRICE $10.00
MP3 clip
PAINT THE SKY WITH STARS

Paint The Sky With Stars is a compilation album featuring a selection of Enya's best known material plus two new tracks - Paint The Sky With Stars and Only If... Some tracks appear to have been remastered, exhibiting better low level detail, and there is also some evidence of remixing, notably on Ebudæ.









CD PRICE $18.00






SHEPHERD MOONS
Enya's SHEPHERD MOONS was recorded in Ireland with producer Nicky Ryan and picks up where her previous release left off. Enya's music fuses the sounds of her Celtic roots with high-tech instrumentation for a lush ethereal sound. She records with painstaking precision, often laying down hundreds of overdubs to create her trademark of richly layered vocal arrangements. Some of the album's many highlights include "Caribbean Blue", "Book of Days," "How Can I Keep from Singing" and the title track.

1. SHEPHERD MOONS
2. CARIBBEAN BLUE
3. HOW CAN I KEEP FROM SINGING
4. EBUDAE
5. ANGELES
6. NO HOLLY FOR MISS QUINN
7. BOOK OF DAYS
8. EVACUEE
9. LOTHLORIEN
10. MARBLE HALLS
11. AFER VENTUS
12. SMAOINTE




CD PRICE $17.00
MP3 clip
THE CELTS

This album is a re-release of Enya, containing a selection of material composed and performed by Enya for the BBC-TV documentary series The Celts. It has been remastered and Portrait replaced by an expanded version of itself under the title Portrait (Out Of The Blue), previously released on various singles as Out Of The Blue.







CD PRICE $17.00









THE MEMORY OF TREES
The enchanting sounds of Enya return in the emotionally charged THE MEMORY OF TREES, the follow-up to her platinum selling album SHEPHERD MOONS. Probably the most solemn and diversely influenced of her massively popular albums, she dabbles in Asian, Spanish, darker Celtic and inspirational sounds while retaining her well-known ethereal beauty. The air of bittersweetness that runs through the album is like a fond recollection of long ago...the music feels slightly sad, yet, at the same time, unbelievably moving and uplifting. It's these qualities that make Enya's music so enjoyable and popular. Her heavenly music sweeps listeners away and makes it almost impossible to feel anything negative in its presence.

1. THE MEMORY OF TREES
2. ANYWHERE IS
3. PAX DEORUM
4. ATHAIR AR NEAMH
5. FROM WHERE I AM
6. CHINA ROSES
7. HOPE HAS A PLACE
8. TEA-HOUSE MOON
9. ONCE YOU HAD GOLD
10. LA SONADORA
11. ON MY WAY HOME




CD PRICE $18.00







VERY BEST OF ENYA BY ENYA
Enya is an artist who is clearly in a class of her own. Since her 1987 self-titled debut, she has immersed listeners in a string of sublime fantasias that all bear her very distinct sound of overdubbed vocals, whimsical neo-classical synthesizer arrangements and flowing waltz-like rhythms. THE VERY BEST OF ENYA acts as a retrospective, highlighting fan favorites from her seven studio albums. Included here are her ever-popular "Orinoco Flow," "May It Be" and "Aniron" - both originally found on the "Lord of the Rings - Fellowship of the Ring" soundtrack, "Trains and Winter Rains" from her recent seasonal album, chart hit "Only Time" and many other songs. The album wraps with her revised choral version of "Oiche Chiuin" (Silent Night). This is a perfect sampler for someone new to the musical universe of Enya, particularly one who is interested in music from her last few albums that were not featured on her 1998 PAINT THE SKY WITH STARS album.

1. Orinoco Flow
2. Aníron (I Desire)
3. Storms in Africa
4. Caribbean Blue
5. Book of Days MP3 clip
6. The Celts
7. Only Time
8. Wild Child
9. Water Shows the Hidden Heart
10. Anywhere Is
11. Cursum Perficio
12. Amarantine MP3 clip
13. Aldebaran
14. Trains and Winter Rains
15. Watermark
16. Boadicea
17. A A Day Without Rain MP3 clip
18. May It Be
19. Oíche Chiúin (Chorale)



PLAYING TIME 67:16

CD PRICE $17.00





WATERMARK
WATERMARK, the first major success for the legendary Enya, is pure bliss for the ears. Enya's trademark layered vocals are at the same time haunting and beautiful beyond compare, as they fill each track with a sense of peace and calmness. The album begins with the title track, a deeply touching ambient piano piece that's almost classical in nature. From there the adventure begins, with songs like the exotic "Storms in Africa," the darker, more introspective "Exile" and the upbeat song that has nearly become Enya's personal anthem, "Orinoco Flow" taking listeners on a journey that seems to span continents. WATERMARK is Enya's best-selling album to date and a true classic of the music world.

1. Watermark
2. Cursum Perficio
3. On Your Shore
4. Storms In Africa
5. Exile
6. Miss Claire Remembers
7. Orinoco Flow
8. Evening Falls...
9. River
10. The Long Ships
11. Na Laetha Geal M'Óige




CD PRICE $17.00
MP3 clip
BEST SELLERS LISTS