THE MUSIC OF BURNING SKY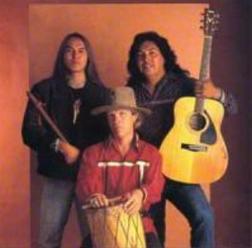 BLOOD OF THE LAND BY BURNING SKY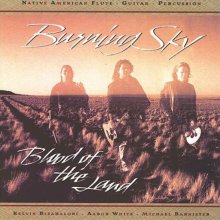 Original instrumental music featuring Aaron White's mix of jazz, folk, and classical styles on guitar with Bizahaloni's evocative flute playing and Bannister's cascade of ethnic percussion.


 
1. Native Funk  
2. La Primieda Tierra  
3. Elk Child  
4. Abalone Heart  
5. Marilyn's Waltz  
6. March to Bosque Redondo  
7. Midnight Rendezvous  
8. Desert Wind  
9. East Meets West  
10. Valley of the Gods  
11. Water  
12. Friendship Song  
13. Indian Wars  


 

CD PRICE $14.00 PLAYING TIME 53:31


---
BURNING SKY
From the DinÚ of Arizona comes Aaron White on guitar and Kelvin Bizahaloni on Native American flute with Michael Bannister on percussion - features original instrumental music influenced by Native American themes and contemporary styles.



1. Navajo Luna  
2. Paiumah  
3. Morning Spirits  
4. New Awakening  
5. Burning Sky  
6. Mother's Day  
7. Evening Star  
8. DinÚ Lullaby  
9. Mother Earth  
10. Warrior's Quest  
11. Walking Song  

CD PRICE $14.00


---
A SIMPLE MAN BY BURNING SKY
Burning Sky, the trio of guitarist Aaron White, flutist Kelvin Mockingbird and bass player John Katz, presents an album of organically tinged, Southwestern style harmonies that capture the essence of contemporary Native America. The music is instrumental, save one track with vocals from award-winning vocalist Martha Redbone. Mockingbird's wistful flute melodies conjures up visions of a landscape pierced by dusty red rock formations and a hazy, golden sky. The guitar and bass backing of White and Katz adds color and a touch of earthy grit to the tunes, giving them a modern acoustic edge. The title track (with Redbone's vocals) is one of the standouts, as is the poignant solo flute piece "Twilight in Your Eyes" and the warm, yet somber "Blood and Faith."



1. Wisdom Keeper (2:59)  
2. Rolling Stone (3:41)  
3. Blood and Faith (3:46)  
4. Season╣s End (3:02)  
5. Twilight in Your Eyes (4:14)  
6. Wind & Steel (3:34)  
7. Land of Lightning (4:16)  
8. Forever One (3:05)  
9. Buffalo Chips (4:54)  
10. Hand in Hand (3:45)  
11. A Simple Man (3:45)  
Total Time: 50:37

CD PRICE $14.00
MP3 clip
---
SPIRITS IN THE WIND BY BURNING SKY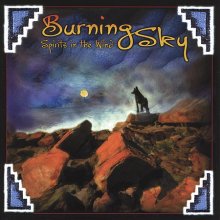 Joining the haunting sounds of the Native American flute with acoustic guitar and ethnic percussion, Burning Sky (Aaron White and Kelvin Mockingbird) takes you on a musical journey imbued with the enduring spirit of the their People, the Dine. With special guest, John Densmore.



1. Eclipse (2:41)  
2. Road Less Traveled (3:26)  
3. Dog Soldier (4:19)  
4. Bare Root (2:26)  
5. Little Wing (4:30)  
6. Beauty Beside Me (5:12)  
7. Medicine Dance (3:32)  
8. Spirits in the Wind (3:01)  
9. Journey Home (3:41)  
10. 49ers Blues (3:50)  
11. Star (4:09)  
12. Shadow Moon (8:33)  

CD PRICE $14.00
MP3 clip
BEST SELLERS LISTS