THE MUSIC OF BRULE & NICOLE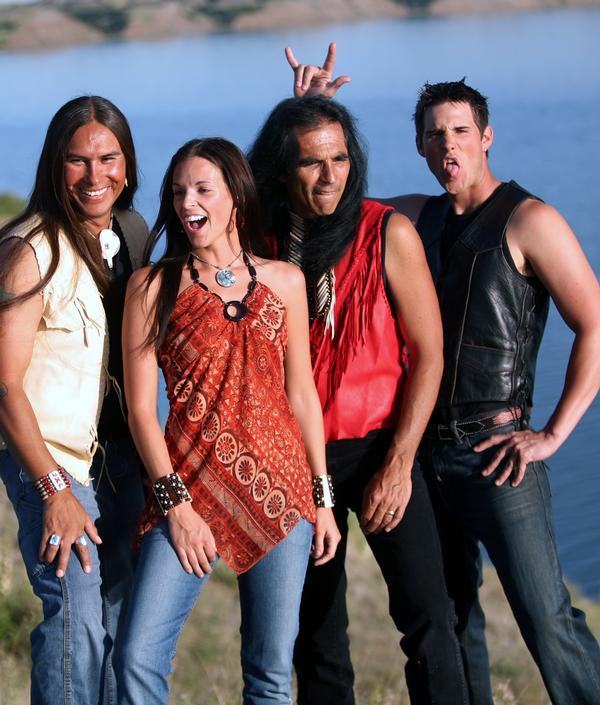 Native American musical traditions are fused with contemporary rock influences by pianist/keyboardist Brule (born: Paul La Roche). A member of the lower Brule Lakota nation, who was adopted as an infant and raised in a non-Native family, Brule uses music as a way to bring together the two cultures of his past. During a telephone interview, Brule explained that his 1997 debut album, "We The People" was "a means to bridge the gap between small town Americana and the Native American experience". His second album, "Lakota Piano", released in 1998, featured piano interpretations of songs by 1970s Native American rock band, XIT. Brule's third album, "One Holy Night", released the same year, was recorded with Robby Bee, the son of former XIT member and owner of the Native American-oriented SOAR label and its Natural Visions subsidiary, Tom Bee. With his fourth album, "One Nation", released in September 1999, Brule took a more global approach. "It's a further step in the evolving story of my life, " he explain d, "a way to bring all the people of the world together". Brule didn't discover his Native American heritage until he was in his thirties. Although born on the Lower Brule Sioux reservation in South Dakota, his adoptive parents, who raised him in the small farming town of Worthington, Minnesota, did not tell him of his heritage. It wasn't until the death of both of his adoptive parents in 1987 that he became aware of his ancestry. He was reunited with his Lakota parents in 1996.


AMERICAN INDIAN ROCK OPERA DVD BY AIRO & BRULE
The 2006 Brule' (Paul Laroche) and AIRO (American Indian Rock Opera) Holiday Tour DVD features footage from one the most cutting edge & profound Native American performances on tour to date in the US - "Red Navity" . "Red Nativity" is a captivating holiday concert that blends contemporary Native American music with traditional rhythms & dance, while delivering the powerful message of peace, unity, & reconciliation of the cultures. The powerful music of Brule' & AIRO, accompanied by breathtaking Native American dance & fantastic theatrics, stands alone in its beauty, emotion & spiritual message. Featuring 12 music selections from 4 of the group's groundbreaking CDs, as well as a special "behind the scenes" bonus feature.



PLAYING TIME 101:00




DVD PRICE $25.00



BRULE LIVE FROM BRANSON DVD
Filmed at the beautiful RFD-TV The Theatre in Branson, MO, this performance captures the true essence of the Brule' mission & encompasses Brule's 17 - year journey between two worlds. The concert features 14 songs from the Brule' catalog of award-winning contemporary Native American music including the never before released "Dakota Rainstorm", a Brule' autobiography in vocal song format. Brule's trademark fusion of traditional Native American dance & contemporary Native American music has been recognized worldwide as the benchmark in contemporary Native American theatrical performances.

1. THUNDER ACROSS THE PLAINS
2. BUFFALO MOON
3. BUFFALO JUMP
4. TRANSPARENT
5. THE BRULE STORY & DAKOTA RAINSTORM
6. TRADITIONAL POW WOW SONG
7. IRON HORSE
8. MIDNIGHT SERENADE
9. NEON SUN
10. DANCING FEATHERS
11. DEEP DREAMS
12. ORANGE FIRE RISING
13. VETERANS POW WOW SONG
14. ONE SPIRIT
15. STAR PEOPLE

DVD PRICE $22.00

BRULE THE COLLECTION BY BRULE
Paul LaRoche, the central figure behind the contemporary Native American project Brule, got a little shock in the early 90's when he not only learned that he was adopted, but that he was of Lakota descent. Not long after that Brule was born, both as an outlet for LaRoche's creative expression and as a means of showing his pride in his heritage. This greatest hits package compiles some of his better known hits from his four releases on SOAR Records. Fans of Brule's signature sound, which blends traditional Native American instrumentation and chant samples with varied tempo electronic backdrops, will be right at home here with songs like "Buffalo Moon," "Star People" and "All My Relations."

1.All My Relations MP3 clip
2.Spirit Horses
3.And Justice For All
4.Peace Is All Around Me
5.Buffalo Moon
6.Celebration of the Heart
7.Stomp Dance
8.Chosen One, The
9.Warrior's Song, A
10.One World, One Nation
11.Dakota Stardust
12.Man in the Sky
13.Dance of Life
14.Fast Horse MP3 CLIP
15.Star People MP3 CLIP



PLAYING TIME 72:46 CD PRICE $17.00



DEEP DREAMS BY NICOLE
With her third solo album for SOAR Records, Nicole (of Brule) once again offers a melodic display of her flute prowess, set against a backdrop of beats and guitar. The music has more edge than her previous couple of albums, partially due to Shane LaRoche's electric guitar, which imparts a rock flavor to several songs. Techno and ambient effects have grown considerably smoother and sleeker with this release, with the pulsating trance tune "Orange Fire Rising" and the bittersweet, moody "The Journey" standing out as highlights. On the other side of the coin, slower songs like "One Heart" show a great deal of soul and expression. Brule bandmates Paul, Shane and Moses all lend a hand in the album's instrumentation, though this is Nicole's album through and through - her sublime and sensual flute playing is front and center on each of the album's tracks.

1.Neon Sun MP3 clip
2.Purple Sage MP3 clip
3.Orange Fire Rising
4.For Tomorrow
5.Tree of Life
6.Deep Dreams
7.Dark Horses
8.One Heart
9.Midnight Vision
10.Journey, The
11.Native Rain



PLAYING TIME 55:32 CD PRICE $17.00



KINSHIP BY BRULE
Paul LaRoche's family band Brule continues to be one most exciting in Native American music today, creating music that warms the soul one minute and has you dancing the next. KINSHIP contains all of the elements you expect from a Brule album - propulsive rhythms, positive energy and plenty of Native American flavor, with arrangements that seem fuller and smoother than any of their album's to date. The great thing about this band is how their music really celebrates their Lower Brule Sioux culture; there's a sense of pride that literally leaps out of the songs. The album begins on a powerful note with two synth-driven dance tunes: "Spirit of the Plains" and "Within the Red Circle," both of which will have you itching to move. "Family Alter," another highlight, is a touching ballad with a sense of melancholy and "Kinship Cycle (Mitakuye Oyasin)" shows that they are equally at home with a more rock-oriented song. If you liked Brule's past work, this album continues along the same path.

1.Spirit of the Plains MP3 clip
2.Within the Red Circle MP3 clip
3.Family Altar
4.Walk With Honor
5.Year of the Buffalo
6.Humble Man
7.Clouds of Fire
8.Voice of a Nation
9.Beaded Dreams
10.Strength of Humility
11.Kinship Cycle
12.With a Warrior's Heart
13.White Horse Rider



PLAYING TIME 57:53 CD PRICE $17.00



LAKOTA PIANO BY BRULE
Brule, a.k.a. Paul La Roche, plays piano, an instrument that does not fit with the stereotypical image of a Native musician, but then again nothing about La Roche is typical. Moving back to the reservation, he had a spiritual awakening that deeply affected his life and his music. Immersing himself in Lakota music, it gave him back a spiritual dimension that he'd lost sight of living in the city. On this new album, La Roche went through the songbook of XIT, the legendary Native American group of the '70s, and chose melodies that spoke to his heart. LAKOTA PIANO has the wide open sound of the central plains with a unique Lakota keyboard style that takes your breath away.

1. ODE TO NATURE MP3 clip
2. MAN IN THE SKY MP3 clip
3. INDIAN BOY
4. PROUD PEOPLE
5. THE CHOSEN ONE
6. SUNFLOWER
7. GLOWING MEMORIES
8. PEACE IS ALL AROUND ME



PLAYING TIME 37:32 CD PRICE $17.00



LAKOTA PIANO II BY BRULE
Lakota Piano II is a tranquil and meditative recording featuring beautiful, haunting piano melodies with soft instrumentation. All eight compositions flow and drift with a touch of tranquility that carries the spirit of Native America. This recording is popular with massage therapists and people who like soft music throughout an entire CD.

1. VOICES IN THE WIND MP3 clip
2. LAST OF THE GREAT CHIEFS MP3 clip
3. SPIRITS OF FT. GEORGE
4. DREAM SHIELD
5. RED PATH
6. HEAVY HUNT
7. BROKEN TRAILS
8. PIANO ON THE PRAIRIE
9. BRAVEHEARTS
10. BEYOND BUFFALO MOON
11. LAKOTA OYATE
12. MARY LITTLE ELK



PLAYING TIME 58:28

CD PRICE $16.00





LIVE AT MT. RUSHMORE DVD BY AIRO & BRULE
The Brule (Paul LaRoche) and AIRO (American Indian Rock Opera) DVD features footage from one of the most profound Native American concerts to ever take place. This DVD was filmed in front an audience of over 11,000 people at Mt. Rushmore National Monument in July of 2007. The concert itself was conceptualized over the course of nearly 10 years by one of the top Native American recording artists worldwide, Paul LaRoche, aka Brule. This DVD combines beautiful music with breathtaking Native American rhythms & dance while delivering the unmistakable message of peace, hope, & reconciliation between cultures. It is truly one of the most captivating & powerful Native American performances ever caught on film.



PLAYING TIME 129:00




DVD PRICE $25.00



LIVE AT MT. RUSHMORE BY AIRO & BRULE
This album was recorded live during the 2007 Brule & AIRO "Concert for Reconciliation of the Cultures" that took place at Mt. Rushmore National Monument in front of more than 11,000 people. Featuring 13 songs from 6 of the group's award-winning albums - this CD is a must have for any Brule & AIRO fan.

1. THUNDER ACROSS THE PLAINS MP3 clip
2. SHELTER FROM THE STORM MP3 clip
3. DANCING FEATHERS
4. REZ ROAD
5. BUFFALO MOON
6. IRON HORSE
7. TRIBAL TREAD
8. VISION QUEST
9. CIRCLE OF CELEBRATION
10. ANCESTOR'S CRY
11. BUFFALO JUMP
12. ONE SPIRIT
13. STAR PEOPLE


PLAYING TIME 69:47

CD PRICE $17.00
NIGHT TREE BY NICOLE
With her second solo album, classical flutist Nicole continues to prove that a flute need not be made of wood to capture the spirit of the Native American people. This exciting foray into Native American music's contemporary side features upbeat, pop arrangements (guitars, percussion, synthesizers) that are centered around big, anthem-like melodies. This is a true feel good album - there's lots of positive energy, catchy hooks and the urge to dance, or at least tap your feet, is quite powerful. Brule's Paul LaRoche (her father) produced the album, so fans of that group will want to take note.

1. Night Tree MP3 clip
2. Spirit Riders MP3 clip
3. Sunflake Children
4. Liquid Dusk
5. Shadow Whispers
6. Saddened Rain
7. Lakota Sunrise
8. We Creatures
9. Transparent
10. Cool Fire
11. Crossing the Waters
12. Clarity



PLAYING TIME 53:16 CD PRICE $17.00



ONE HOLY NIGHT BY BRULE & ROBBY BEE
This powerful contemporary instrumental recording, that blends Native American flutes, synthesizers, percussion, bells, nature sounds and occasional soft vocals, was produced, engineered, composed, arranged and performed by Robby Bee and Paul La Roche, a.k.a Brule. Together they form the duo Red Nativity. With just the right amount of seasoning, ONE HOLY NIGHT blends the contemporary and traditional stylings of Native America while paying homage to Wakan Tanka (the Creator). Listeners will be pleasantly surprised by songs such as "Come Faithful One," "Three Shaman," "Serenity's Child," "Silent Grace" and many more.

1. THE MIRACLE OF LIFE
2. COME FAITHFUL ONES
3. THREE SHAMAN
4. SERENITY'S CHILE
5. WANKAN TANKA'S PRAYER
6. YOUNG RAIN DRUMMER
7. THE WINDS OF SALVATION
8. SILENT GRACE
9. A MIDNIGHT CLEAR
10. VIRGIN SUNRISE
11. ANGELIC GLORY
12. ONE HOLY NIGHT




PLAYING TIME 59:01
MP3 clip CD PRICE $17.00
ONE NATION

Brulé has become one of the top selling Native American artist in the world. His new recording "One Nation" includes special guest appearances from Navajo Elder Kee Chee Jake, whose voice was heard predominantly on the worldwide multi-million seller "Sacred Spirit" album, along with James Bilagody (Navajo), and Cornel Pewewardy (Comanche).


1.Fast Horse MP3 CLIP
2.Warrior's Circle MP3 CLIP
3.Heartbreak Tipi
4.Morning Star, The
5.Sunrise Offering
6.Faded Glory
7.And Justice For All
8.One World, One Nation
9.Stomp Dance
10.All My Relations
11.Touched by a Vision



PLAYING TIME 54:55 CD PRICE $17.00



PASSION SPIRIT BY NICOLE
Nicole, the flutist for popular Native American group Brule (as well as a member of the lower Brule Sioux Tribe), comes into her own with her first solo instrumental album, PASSION SPIRIT. This instrumental assortment of somber ballads, upbeat pop music and light dance tunes is performed using the classical flute, making this the first recording to feature the instrument in a Native American themed album. Some of the more powerful moments on PASSION SPIRIT include the slow and rather reflective traditionl piece "Beyond the Trail of Tears," the soaring heights and emotional buildups of the orchestral "World Dance" and the beat-driven rocker "Ghost Drive."

1. Beyond the Trail of Tears MP3 clip
2. World Dance MP3 clip
3. Rez Road
4. Dawn of Awakening
5. Ghost Drive
6. Ancestor's Cry
7. Black Mountain
8. Childhood's Mystery
9. New Enlightening, A
10. Dakota Rain
11. Struggle
12. Warrior's Lament
13. Unmasked Facade
14. One Spirit



PLAYING TIME 55:21 CD PRICE $17.00



SILENT STAR NIGHT BY BRULE & AIRO
This groundbreaking CD features a unique combination of recognizable Christmas melodies with unmistakable Native American rhythms and sounds.

1. Silent Star Night 5:45; MP3 clip
2. Shelter from the Storm 6:04; MP3 clip
3. Listen to the Silence 6:24
4. Joy to the World 5:52
5. Song of the Bells 5:12
6. Grandmother's Prayer 6:05
7. Sacred Coming 4:45
8. Canon of Life 7:14
9. When Warriors Rest 4:23
10. O Holy Night 4:29
11. Maka Cante' (Heart of the World) 4:16



PLAYING TIME 60:35




CD PRICE $17.00




STAR PEOPLE
Paul LaRoche (aka Brule) is one of the top-selling artists in Native American music. Seamlessly blending melodies from Lakota tradition with modern electronica elements, Brule's style is nothing short of cutting edge. STAR PEOPLE is based on the Lakota legend of creation and the belief that the tribe originated from the stars. The pieces are mainly upbeat with a strong pop/rock edge that incorporates flute, piano, keyboard and a steady beat into a collection of balladic and dance selections with a Native American influence. Highlights include the soaring melodies of the title track and the exhilarating energy of "On Eagle's Wings."

1. STAR PEOPLE MP3 clip
2. THOSE HUMAN WAYS
3. BLACK HILLS (LAKOTA HOMELAND)
4. ON EAGLES WINGS
5. CELEBRATION OF THE HEART
6. SKY OFFERINGS MP3 clip
7. SEVEN GENERATIONS
8. DANCE OF LIFE
9. CHASING CLOUDS
10. SACRED DIRECTION
11. BEAR BUTTE DREAM SONG
12. PAINTED FACES
13. THE LAST ARROW
14. DAKOTA STARDUST



PLAYING TIME 59:12 CD PRICE $17.00



TATANKA BY AIRO & BRULE
"Tatanka", the first release by AIRO, pushes the envelope to encompass more styles, sounds, and genres of music. This fun, upbeat album is the first release of what is to become a two-part series that will tell the story of the buffalo from before man, to its relationship with the American Indians, and through its near extinction due to the westward expansion across the plains. Featuring Brule.

1. Buffalo Jump MP3 clip
2. Still Standing MP3 clip
3. Coming to America
4. Iron Horse
5. Circle of Celebration
6. (I Used To) Ride Like the Wind
7. Fading Fires (Of the Great Chiefs)
8. Vision Quest (Dreamer)
9. Last Buffalo Hunt
10. Brotherhood (With the Buffalo)
11. Ghost Dance
12. Sacred Love



PLAYING TIME 56:41 CD PRICE $16.00
TRIBAL RHYTHM BY AIRO & BRULE
Featuring the classical guitar, haunting flute & traditional Native American percussion, this unique melody-driven album captures the rhythms & beats of the indigenous people. Containing a mix of both upbeat & more soothing tempos, this album takes the listener on a journey across the plains. "Tribal Rhythm" is a great CD for listeners of all ages. Featuring Brule.

1. DANCE IN THE SKY MP3 clip
2. MYSTIC MP3 clip
3. SPIRIT OF THE PRAIRIE
4. THUNDER ACROSS THE PLAINS
5. SUMMER SERENE
6. LAKOTA LULLABYE
7. TRIBAL TREAD
8. DAKOTA BLUE
9. LONG HARD ROAD
10. ENDLESS TRAIL



PLAYING TIME 42:32 CD PRICE $16.00
WE THE PEOPLE
Paul LaRoche (Brule) is an accomplished musician on piano, guitar and numerous other instruments as well as a composer, arranger and producer. WE THE PEOPLE is a gathering of tribal music composed by LaRoche and featuring guests Bryan Akipa, Jay Begaye, Earl Bullhead, Guy Allen and others. Modern rhythms and melodies are mixed with traditional chanting resulting in a truly unique album. Perfect for fans of Enigma or Native American music, this is an album that brings the sounds of yesterday and today together in a pleasing way.

1. SACRED PRAISES MP3 clip
2. BRAVE HEARTS MP3 clip
3. BUFFALO MOON
4. DREAM SHIELD
5. DANCING FEATHERS
6. SPIRIT HORSES
7. VISION CIRCLE
8. WE THE PEOPLE
9. A WARRIOR'S SONG
10. RED PATH
11. FIREDANCER
12. LAKOTA FOREVER



PLAYING TIME 53:47 CD PRICE $17.00




BEST SELLERS LISTS