THE MUSIC OF BLACKLODGE SINGERS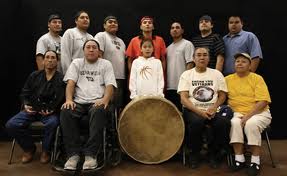 The Black Lodge Singers is one of the most successful of North America's powwow drum groups. Specializing in the traditional Native American Northern Plains music, the 12-member group sings in their native Blackfoot language while each member beats a steady rhythm on a large, sacred buffalo drum. The group, which centers around Kenny Scabby Robe and his family, placed second in the contemporary style category at the Dance for Mother Earth Pow Wow in Ann Arbor in 1996 and placed third in 1997. In 1994, the Black Lodge Singers sang on R. Carlos Nakai and William Eaton's Grammy-winning album Ancestral Voices. ~ Craig Harris, All Music Guide
---
ENTER THE CIRCLE BY BLACK LODGE SINGERS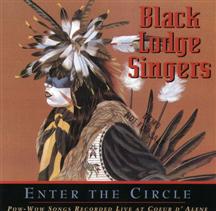 One of North America's leading pow-wow drums, the Black Lodge Singers are the legacy of Kenny Scabby Robe and his family. The Scabby Robe tradition of singing has given rise to one of the most innovative and explosive groups on the pow-wow trail. This most recent collection of their songs captures the vibrant pulse of the pow-wow.



1. Intertribal (3:53)        MP3 clip
2. Seasons (4:06)   
3. Crow Hop (2:31)   
4. Intertribal (4:05)   
5. Intertribal (5:13)  
6. Memorial Song for Nathan Jim Jr (3:24)   
7. Old Faithful (4:18)   
8. '96 Love Song (3:55)   
9. Round Dance (3:40)  
10. Intertribal (4:13)   


CD PRICE $15.00 PLAYING TIME 39:59

---
KIDS POW WOW SONGS



Twelve playful songs made by the Black Lodge Singers for kids of all ages to dance to during the pow-wow or just for fun. Includes Mighty Mouse, Flintstones, Mickey Mouse, Bunny Hop, Monster Mash and Ask Your Mom for Fifty Cents.


1. Looney Toons
2. Mighty Mouse
3. Flintstones
4. Tiny Tots Contest Song- Indian People, Watch the Little Girls Dance!
5. Ask Your Mom for Fifty Cents
6. Intertribal Song
7. Mickey Mouse
8. Twinkle, Twinkle Little Star
9. Bunny Hop
10. Kuna Matata
11. Eight Ball Song
12. Monster Mash
13. Here's Kenny!



CD PRICE $15.00
MP3 clip
---
MORE KIDS POW WOW SONGS BY BLACK LODGE SINGERS
How can you not crack a smile at the idea of the "Spongebob Squarepants" theme song being interpreted as a pow-wow song? That's the tip of the iceberg on this release, which pairs recognizable children's songs and nursery rhymes with the pulse of a medicine drum and the chants of the Black Lodge Singers. This is a wonderfully unique release that does a great job of introducing children to pow-wow music, especially those of Native American heritage that might not have been brought up with traditional pow-wow music. Also included here is a humorous rendition of "Old MacDonald Had A Farm" (complete with animal sounds!) and a song themed after "Barbie" for the young ladies.

1. Sponge Bob Square Pants
2. Scooby Doo
3. Old MacDonald Had A Farm
4. When We Were Little Bitty Boys
5. Barbie's Round Dance
6. Elmo's World
7. Brother Bear
8. To the Mother of Black Lodge
9. Kid's Pow-Wow Songs Medley
10. Straight Song
11. Prayer Song




PLAYING TIME 37:35

CD PRICE $15.00
MP3 clip
---
PEOPLE DANCE BY BLACK LODGE SINGERS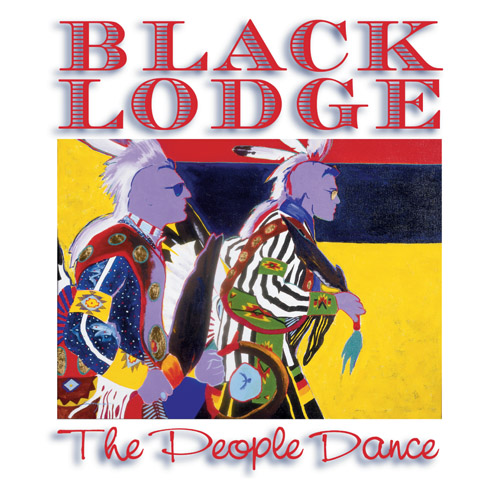 For over a decade the Black Lodge singers have been one of the most popular pow-wow groups in North America. Winners as Artist/Group of the Year at the first Native American Music Awards, Black Lodge has provided the highest level of singing and drumming for dancers on the pow-wow trail.

1. Iwasil (5:53)        MP3 clip
2. Elder's Groove (5:14)   
3. Fancy Dance (2:41)   
4. Memories (3:53)   
5. Woman's Song (2:19)  
6. Prairie Chicken (4:18)   
7. Dancing People (3:57)   
8. Prayer Song for Bryson (4:05)   
9. Litefoot (3:40)  
10. Round Dance (3:13) 

CD PRICE $15.00 PLAYING TIME 39:46

---
POW-WOW HIGHWAY SONGS BY BLACK LODGE SINGERS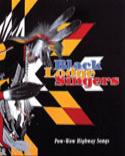 Debut recording of northern-style pow wow songs from a legendary Blackfoot drum group that includes Kenny Scabbyrobe, his wife Louise, & their remarkable sons.

1. Chief Mountain        MP3 clip
2. Don't Be Afraid to Dance  
3. Woman Dancer  
4. People's Gathering  
5. 1, 2, 3 Dance Girl  
6. Dancin' Beautiful  
7. Eagle Plume Dancer  
8. People Are Dancing  
9. Creator Bless Us  
10. Prayer Song  

CD PRICE $15.00 PLAYING TIME 40:35

---
ROUND DANCE TONIGHT BY BLACK LODGE SINGERS
Round Dances are Native American social dances during which all members of the community are encouraged to dance and have a good time. For years the Black Lodge Singers have been regarded as one of the greatest pow-wow drums in North America. However, recently they have gained notoriety for their entertaining brand of Round Dance songs utilizing hand-drum and voice. This recording of their latest hand-drum songs is sure to make want to dance through the night!

1. Honky Tonkin' (6:01)        MP3 clip
2. Mothers' Song (4:45)   
3. Trails (4:52)   
4. Dancing All Night Long (5:35)  
5. Straight Round Dance (6:45) 
6. Oldie But A Goody (3:00) 
7. '96 Love Song (5:43)
8. Eternity (6:10)  

CD PRICE $15.00 PLAYING TIME 43:29

---
TRIBUTE TO THE ELDERS
For over 15 years the Scabby Robe family has traveled and performed as the Black Lodge Singers throughout the United States, Canada and overseas. Performing traditional Blackfeet, contemporary-style songs and classic Black Lodge songs, this recording captures the full scope of the Black Lodge sound.

1. Traditional Song
2. Traditional Song
3. Traditional Song
4. All the Dancers
5. Travel Song
6. Traditional Song
7. Traditional Song
8. Traditional Song
9. Traditional Song
10. Dancing and Being Happy
11. Traditional Blood Song
12. Forever More
13. Traditional Blessing Song



CD PRICE $15.00
MP3 clip
---
VETERANS' HONOR SONGS BY BLACK LODGE SINGERS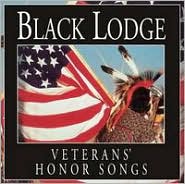 A notable features of the contemporary pow-wow (where many tribes come together) is the honor shown to all veterans who enter at the beginning of the grand entry and the prominence given to the American flag alongside the eagle staff. It is the Native American way to always remember and honor the men and women who serve and have served in the armed forces. This recording presents ten pow-wow songs composed to honor those who have protected their country and their people.



1. Flag Song (3:11)        MP3 clip
2. World War I & II (4:11)  
3. Indian Boys from Desert Storm (4:28)  
4. Donšt Cry, Soldier Boy (3:13)  
5. Soldier Boy (3:04)  
6. Honoring Those That Returned (4:34)  
7. Vietnam Song (3:03)  
8. Vietnam - Desert Storm (3:47)  
9. War Mother, Donšt Cry, Be Strong (3:35)  
10. Back from Overseas (3:03)  

Total Time: 36:49



CD PRICE $15.00 PLAYING TIME 36:49




---
WEASEL TAIL'S DREAM BY BLACKLODGE SINGERS


Hailing from White Swan, WA, the Black Lodge Singers continue to bolster their reputation for superior quality Native American pow-wow music. Highly demanded on the pow-wow circuit for their originality and refreshingly modern style of songmaking, the group continues to make expressive music that shows pride in their heritage and enthusiasm for the future. WEASEL TAIL'S DREAM is dedicated to the late Jim Weasel Tail, the grandfather of several of the group's members. Driven by the pulse of Native American drums and accentuated with their emotive singing, the group proves that although nothing quite beats the experience of a live pow-wow, an hour with WEASEL TAIL'S DREAM is the next best thing.

1. Wassup-
2. Dance for Me 3. Dream
4. Elders
5. B.L. Song
6. The People
7. Sik-Sik-Oya
8. Straight
9. Family Song
10. Let's Go
11. Mom's Song
12. B.L. Phatso
13. Ha-Cha



PLAYING TIME 55:53



CD PRICE $15.00
MP3 clip
BEST SELLERS LISTS