THE MUSIC OF ARMIK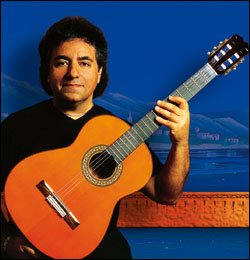 As a leader in the nuevo flamenco movement, Armik has contributed a solid body of work to its sound. His virtuosic abilities span a wide range of styles, all of which mix easily together. He fluidly combines elements of jazz, flamenco, and classical guitar with a Latin flare. His love for the music he plays is evident in the care he takes in choosing the right guitar from his extensive collection. His dedication to production values emphasizes the emotional aspect of the music. His fans span the world from Australia to the United States to Iran. Since his debut in 1994, he has carved a niche for himself in the New Age market and he seems poised to continue attracting new fans the world over.

Born Armik Dashchi to Armenian parents in Iran, Armik has had a lifelong love of the guitar. When he was seven years old, he traded his watch for a classical guitar. He spent weeks hiding his new treasure. His family was unaware of Armik's passion until they discovered him practicing in the basement of the family home; by that time, he was proficient. He quickly taught himself to sight-read music. At age 12 he began a career performing professionally for recording studios. At that young age he was able to perform and read difficult musical passages.

Armik spent the 1960s and 1970s mostly playing jazz. He also contributed to the recordings of a couple of Iran's most famous performers, including Googoosh, one of the most popular female Iranian singers during the 1970s. He also performed on many recordings of Dariush, a popular male singer. During that time, Armik also gave guitar lessons.

During the 1970s, Armik traveled to Spain frequently to study music. While there he attended a performance of renowned flamenco guitarist Paco de Lucia. Hearing de Lucia play inspired Armik to take up flamenco guitar himself. He told Ernesto Lechner of the Los Angeles Times, "My opinion of what a guitar was supposed to sound like changed that day." He immediately bought his own flamenco guitar and dedicated himself to the form. He explained on his website, "When I first touched a flamenco guitar and heard the sound, I realized I could talk through my instrument."

After Iran's 1979 revolution, the new fundamentalist Islamic government outlawed music. Armik decided to leave the country. His identity as an Armenian, a Christian, and a musician left him feeling out of place under the strictly Muslim code of living enforced during that time. Armik would have faced many difficulties if he had tried to stay in Iran.

In 1981 Armik ended up in Los Angeles. At this time, he began his career as a session musician. During the next decade, he played on more than 10,000 sessions. He supplemented his income by giving guitar lessons. Even though he was making a living as a session musician, Armik was determined to launch a solo career. He had the support of his wife, Annette, a woman he had met upon moving to Los Angeles. He was also encouraged by those around him who continually asked him when he would release a solo album.

In 1994 Armik released his first solo album, Rain Dancer. The album spent weeks on Billboard's Top New Age Albums chart, rising to the number nine position. Many of the recordings from the album were picked up by radio stations that play exclusively instrumental music. This exposure helped develop a fan base that has continued to grow worldwide with each album he releases.
BEST SELLERS LISTS